Johanna Konta Makes History & Keeps Her Wimbledon Dreams Alive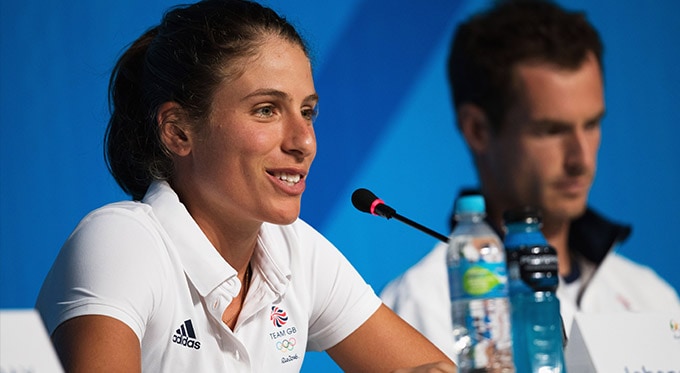 British number one, Johanna Konta made history yesterday by becoming the first British female for 39 years to reach Wimbledon semi-finals.
After celebrating her 300th career win in Nottingham last month, Jo has captured the sporting world's attention once again – defeating Romania's Simona Halep in a dramatic match. Johanna's semi-final match is set to make history as she comes face-to-face with five-time Wimbledon champion, Venus Williams.
The win means that Jo is the first British female semi-finalist at Wimbledon since Virginia Wade's victory over Mima Jaušovec in the 1978 quarter-finals placed her against Chris Evert in the semi-finals of the tournament.
Johanna's passion for tennis was ignited at the age of eight, when she attended an after-school tennis class in her home town of Collaroy, North Sydney. A year later, she began training and playing routinely, with the intent to forge a sporting career. In 2005 Konta began attending the ASC Sánchez-Casal Tennis Academy – the same academy which trained Andy Murray – in Barcelona. Whilst Johanna spent 15 months training at the academy, her parents relocated to Eastbourne in England, and Johanna joined them at the end of her training.
She was destined for success, winning her first singles title at the age of just 16. She then went on to defeat top seed Corinna Dentoni as a wild card entry into the $25,000 tournament of 2009, which was held in Sutton.
In 2012, she gained British citizenship and began representing Great Britain in a range of tennis tournaments. It was during this year that she rose more than 100 places to reach No. 211 in the world tennis rankings after playing in the WTA Tour event in Copenhagen. She became the British No. 2 in 2013 after a successful year which saw her take part in eight tournaments, including Wimbledon.
Konta represented Great Britain at the Rio 2016 Summer Olympics, reaching the quarterfinals – a proud achievement. Later in the year, she entered the China Open, during which she survived into the finals and entered the WTA top ten for the first time – making history as the first British woman to do so since Jo Durie's success in 1984.
Her repeat performance in this years' Wimbledon tournament has projected her to new heights within the tennis world.
Here at Champions Speakers, we have a host of both former and current tennis speakers that are available for all manner of events and conferences. To book somebody, fill in our online contact form or alternatively, call a booking agent directly on 0207 1010 553.