Jack Nicklaus & Tony Jacklin Celebrate the 50th Anniversary of The Concession at Wentworth
The Champions Speakers agency flew out American golf legend, Jack Nicklaus to join Tony Jacklin and guests for a golf day and Q&A in celebration of the 50th anniversary of The Concession on the 6th July 2019. The famous concession was made by Jack Nicklaus during the final shot of the final hole in the 1969 Ryder Cup.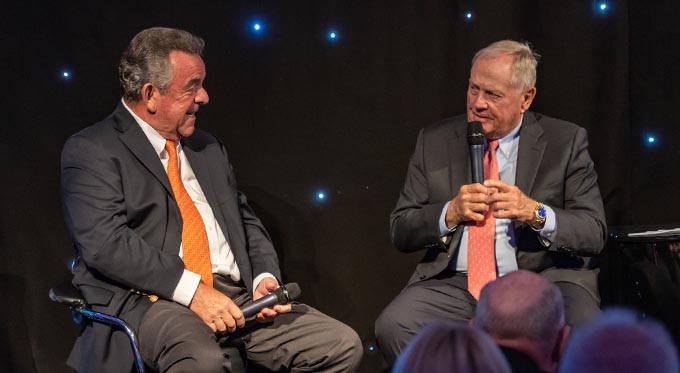 A dramatic finale saw the USA and Europe neck and neck after Tony Jacklin levelled the match with an impressive long eagle putt. Onto the 18th hole with the world watching, Jack Nicklaus stepped up to sink a five-foot putt before conceding Jacklin's two and a half footer to draw the tie - and share the Ryder Cup. The moment has since been recognised as one of the most iconic examples of sportsmanship both in the history of golf and sport.
The luxury Wentworth Golf Club played host to the commemorative event, featuring an all-star line-up of inspirational sportspeople, including Nicklaus, Jacklin and European Tour CEO Keith Pelley. The evening's entertainment also featured the breathtaking vocals of Britain's Got Talent opera star, Faith Tucker.
You can book Jack Nicklaus, Tony Jacklin or choose from a selection of legendary golf speakers today with the Champions Speakers agency by filling in our online contact form or by calling us directly on 0207 1010 553.