Germany Become World Champions For The First Time Since Reunification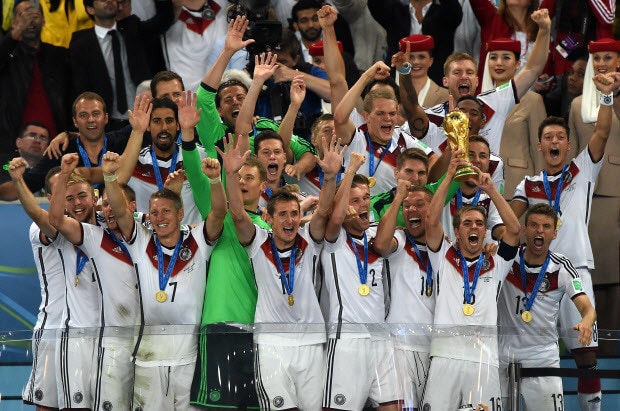 After a month of thrilling football, last-minute surprises and tense deadlocked games, the FIFA World Cup 2014 drew to a close last night in the Estádio Maracanã, Rio de Janeiro, Brazil. The 22-year-old Bayern Munich forward, Mario Götze, stepped off the bench to volley home a 113th-minute winner, sealing victory for a young and talented German squad.
The game against two-time winners, Argentina, was a tight tactical affair with chances few and far between. Argentina started the brighter and when a wayward defensive header from Germany's Toni Kroos left Gonzalo Higuaín bearing down on goal unmarked in the early stages, it should have been 1-0. Minutes later Higuaín did find the net only to be ruled offside.
Any chance of the game opening up was stymied in normal time by the awareness and discipline both sides showed in midfield. Javier Mascherano was outstanding in Argentina's semi-final victory over The Netherlands and was again a superb shield in front of the South Americans back four.
In a similar vein, Bastian Schweinsteiger was fantastic in patrolling a deep central zone and acting as a screen ahead of the German defence. He ended up as many pundits' choice for player of the tournament, an accolade officially taken by Lionel Messi despite what some saw as a lukewarm World Cup on his part and a disappointing Final that might have secured his place among the game's greatest ever players.
Peter Shilton OBE, gave us his views of Messi's World Cup performance:
"To be fair, I think that Messi hasn't really lived up to his reputation in this tournament. We've just seen flashes of him. He did score that goal against Switzerland. We've seen him score another couple of goals. I think against Holland he really struggled a bit. He didn't get space and lost the ball a couple of times. We're still waiting for that one great performance"
As a result of the impasse in central areas, both teams had more joy going forward down the flanks and it was from the left side that, as both teams tired in the second period of extra time, Chelsea's André Schürrle centred for Götze. The youngster, on as a second half substitute for Miroslav Klose, the World Cup's record goalscorer, controlled the ball with his chest and fired past the Argentine goalkeeper, Sergio Romero, in one fluid motion, sending over 80 million Germans into ecstasy.
This fourth German World Cup win, their first since reunification in October 1990, vindicates the policy of root-and-branch reform undertaken by the German football authorities, the Deutscher Fußball-Bund (DFB), in the early years of this century in response to poor performances by the national team. The DFB took a fresh approach to its youth systems and their restructuring has now born the ultimate fruit.
While the 2014 World Cup failed to produce the fairytale ending for the Brazilians on home soil it will be remembered as the highest scoring in history. Reputations were cemented and several individual names were made. Traditionally strong countries like the Italians and Spanish underperformed while the likes of Costa Rica and Algeria over-delivered on expectation.
Yet the Germans, never a side to write off, ran out worthy winners and were unquestionably the best team on display this time round.
Roll on the next instalment in Russia in 2018!
To book Peter Shilton OBE or another of our talented football speakers, fill out our online form or call Champions Speakers on 0207 1010 553.