George Harrison guitar fetches huge price tag at auction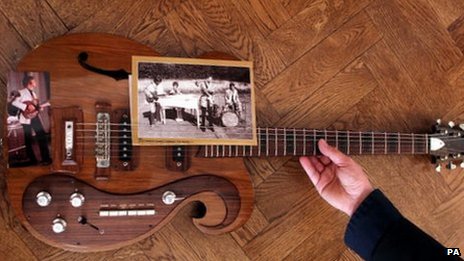 An incredible collector's item for any Beatles fan, a guitar played by George Harrison, has sold at an auction in New York for an incredible $657,000 (£390,000). The Beatles remain the best-selling music act of all-time and personalised memorabilia still fetches an enormous price tag at auction.
The 1962 Rickenbacker was played by Harrison on TV shows including Ready Steady Go! as well as during the recording of hit song 'I Want to Hold Your Hand'. Harrison died in 2001 and wrote many of The Beatles best-known hits including 'Here Comes the Sun' and 'Something'.
Some of the other items on sale at the auction included handwritten placards signed by John Lennon and Yoko Ono, a guitar rented by Sir Paul McCartney in the mid-1960s and a white jumpsuit worn by Elvis Presley.
George Harrison's famous Rickenbacker falls just short of the record for the highest-priced guitar in auction history which was achieved by a Bob Dylan guitar which sold for $965,000 (£591,000).
Champions Speakers has some fantastic auctioneers and event hosts available for your next big function. Browse through our selection online or call 0207 1010 553 to find out more.