English Football - Reasons To Be Cheerful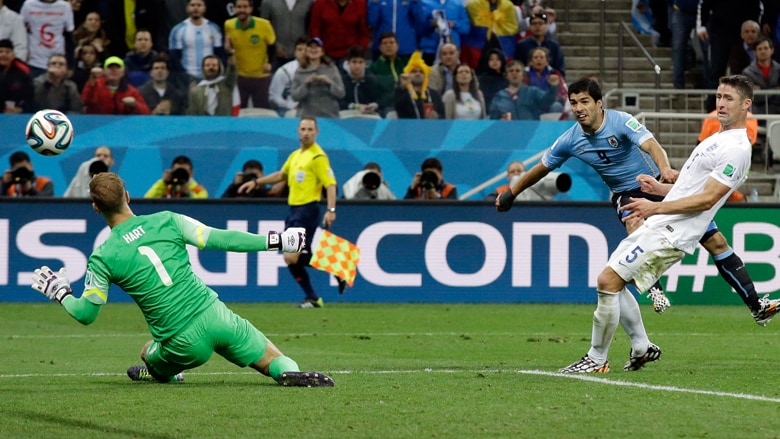 It has become something of a national pastime in England that every second summer we are put through the collective wringer at an international tournament by the England football team. After the surrender in South Africa 4 years ago and our lack of cutting edge in Euro 2012, expectations were low as we headed to Brazil for this year's FIFA World Cup, pitted against strong Italian and Uruguayan sides in the group phase.
Last night in Sao Paolo, though, England came close to a significant coup when Wayne Rooney pounced in the 75th minute to equalise a first half header from Liverpool's talismanic striker, Luis Suárez. For the next ten minutes it looked as if only England could win it but they were unable to capitalise on the momentum they had built up during the middle part of the second period.
The 85th minute saw Suárez gamble on a long punt from his own keeper and latch on to a scuffed header from England's captain Steven Gerrard. Before the English defence could react he was bearing down unmarked on Joe Hart's goal, ready to unleash the bullet finish that sealed the game 2-1.
However, contrary to the general consensus, England's story does not end there.
Of course, mathematically Roy Hodgson's men can still qualify for the knock-out stages if Italy's next two games go our way and we defeat Costa Rica on Tuesday, but, predictably, we seem to have gone into a period of national recrimination and gloom before the fat lady has even warmed up her vocal chords.
We need to take a step back and look at the bigger picture. We need to make a forward-looking assessment of where we are in comparison to all the hype and assumption that surrounded the ultimately disappointing 'Golden Generation' of the Noughties.
Football is a game of fine margins and the devil has indeed been in the detail so far in Brazil. Yet we have shown an attacking intent that has been missing for well over a decade and we now have a group of young, pacey players coming through and gaining valuable experience at tournament level.
Looking at events in Brazil thus far, legendary England goalkeeper, Peter Shilton OBE, was positive about the England's future and explained, "This is a young squad that is more than capable of scoring a few goals and competing with the best teams. Roy Hodgson has done very well giving young players the opportunity to come into the squad and improve. In the coming years those young players can only improve."
These last two games were lost against well-disciplined sides who recognised the potency of the Hodgson's recent expansive approach and set up to frustrate. We have shown an ability to keep the ball that has previously been absent and, as a young side in the early stages of development, we have firm foundations upon which to build.
Too often we view the world in simple black and white terms when in reality it is every shade of grey. By the same token, as a nation we tend to look at football in one of two extreme ways; either we are world-beaters with a pre-ordained date with destiny or we are a bunch of no-hopers beset by fear, technical deficiencies and tactical naivety.
The truth of the matter is that we are neither but there are always reasons to be cheerful!
To book Peter Shilton OBE or one of many football speakers for your event or function, fill out our online form or call us on 0207 1010 553.