England World Cup Squad Announced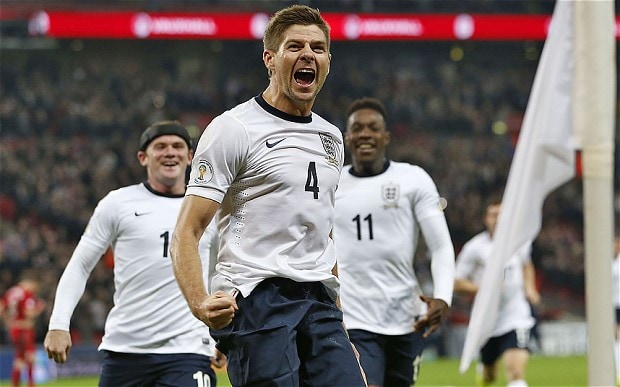 Roy Hodgson has ended the speculation and named his 23 man squad for the upcoming FIFA World Cup in Brazil. Many anticipated the England Manager would stick to type and put his faith in the old guard but with the inclusion of the likes of Everton's 20 year old Ross Barkley and Liverpool's young tyro, Raheem Sterling, Hodgson has demonstrated the trust he has in the younger generation.
Hodgson explained his logic: "How do you get experience? You get it by getting the opportunity … It's a catch 22 … But the balance is good. Everyone is inexperienced until they get the chance to do the job."
This squad features 10 players with under 10 caps and has arguably transformed more in the 4 years since South Africa than that of any other major country. There will be debate about whether that can be construed as a good thing or not but with expectations lower than for recent tournaments, Hodgson and England are undoubtedly looking to the future.
Led by Steven Gerrard, the England squad contains 5 of the Liverpool side who came so close to winning the Premier League title this season, so there is a place for Jordan Henderson who has improved enormously over the last year. Rickie Lambert pipped Andy Carroll for a place in the 23 and is joined by his Southampton teammates, Adam Lallana and the 18 year old Luke Shaw, who was preferred to Ashley Cole.
The 33-year-old Chelsea left-back confirmed his retirement from international football last night after hearing he had missed out on Brazil. There is no place in the 23 for Manchester United's 32-year-old Michael Carrick but Frank Lampard has made the cut despite his advancing years.
On hearing the squad announced, Champions Speaker, Peter Shilton thought there were reasons to be cheerful: "I'm very pleased with Hodgson's squad selection and it's fantastic to see plenty of young players with big futures ahead of them like Luke Shaw, Ross Barkley, Alex Oxlade-Chamberlain and Raheem Sterling. I think Hodgson is also right to include some more experienced players like Gerrard and Lampard, as they know what it's like to play on the world stage."
There is yet to be a serious injury scare but Phil Jones is a doubt. Hodgson has put 7 men on standby, naming John Stones as Jones' replacement should his shoulder problem persist.
Goalkeepers: Joe Hart (Manchester City), Ben Foster (West Bromwich Albion), Fraser Forster (Celtic).
Defenders: Leighton Baines (Everton), Gary Cahill (Chelsea), Phil Jagielka (England), Glen Johnson (Liverpool), Phil Jones (Manchester United), Luke Shaw (Southampton), Chris Smalling (Manchester United).
Midfielders: Ross Barkley (Everton), Steven Gerrard (Liverpool), Jordan Henderson (Liverpool), Adam Lallana (Southampton), Frank Lampard (Chelsea), James Milner (Manchester City), Alex Oxlade-Chamberlain (Arsenal), Raheem Sterling (Liverpool), Jack Wilshere (Arsenal).
Attackers: Rickie Lambert (Southampton), Wayne Rooney (Manchester United), Daniel Sturridge (Liverpool), Daniel Welbeck (Manchester United).
Standby: John Ruddy (Norwich City), Jon Flanagan (Liverpool), John Stones (Everton), Michael Carrick (Manchester United), Tom Cleverley (Manchester United), Andy Carroll (West Ham United), Jermain Defoe (Toronto FC).