Demolition and Attrition: The Tale of Two World Cup Semi-Finals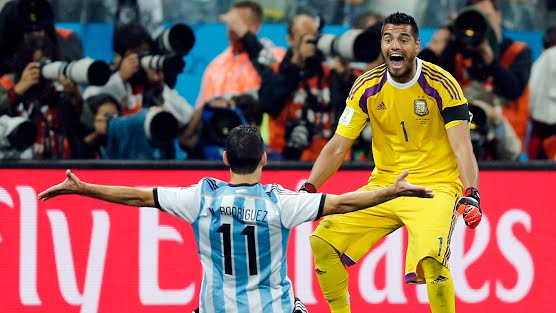 On Tuesday, Germany removed the crown of football royalty, destroying Brazilian dreams of a World Cup victory on home turf in a stunning 7-1 score line. However on Wednesday the viewing could not have been any different, with Germany and Argentina cancelling each other out for 120 minutes, forcing the game to be decided with a penalty shootout.
Suffering their heaviest defeat in competitive history, Brazil had been humiliated in the worst of fashion. With the absence of captain Thiago Silva and crowd favourite Neymar Jr, Brazil were lambs to the slaughter, becoming horribly exposed in defence to leave the Brazilian goalkeeper helpless.
The clinical German side showed no remorse, scoring four of their five first-half goals within fifteen minutes of each other. Described by Brazilian manager Scolari as "the worst day of my life", Brazil need to regroup before facing Netherlands on Saturday at a match to decide third place.
In completely different guise from the previous evening's match, Argentina and the Netherlands met on Wednesday evening to contend for the other place in the Final. The two teams were incredibly closely matched for the entirety of the match, with both keepers keeping clean sheets for 120 minutes.
The match went to penalties, something that has been a common occurrence in Brazil. With an impressive performance from Argentinian goalkeeper Romero, the South Americans were victorious at 4-2.
After their ruthless performance, Germany are currently strong favourites to lift the trophy on Sunday evening.
Champions Speakers' own, Peter Shilton OBE, knows exactly about the dramas of penalty shootouts:
"You have to be prepared for them.
My advice to the penalty-takers would be to keep your thinking very simple, keep the ball low, don't miss the goal and put pace on it.
Even if you don't connect all that sweetly and hit the ball a yard either side of the keeper, at least you still have a fair chance of scoring.
Don't miss the goal.
Don't try to be too clever and tip-tap it, allowing the keeper to make an easy save.
Keep it simple"  
Peter Shilton OBE is just one of the many sports speakers that the Champions Speakers agency have on our books, either browse our website or call our after dinner speaker team on 0207 1010 553 today.