Cobra's Bite Fatal for Groves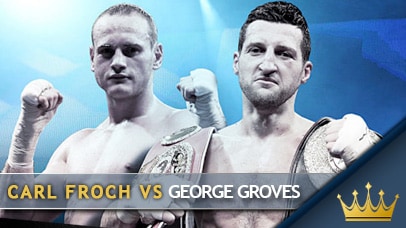 The much-anticipated rematch between challenger, George Groves and world champion, Carl 'The Cobra' Froch, ended dramatically in the eighth round in front of 80,000 fans at Wembley Stadium on Saturday night. Froch ended the bout by opening up the young pretender with a left faint and followed through with a crashing right cross to the jaw of Groves, sending him unconscious to the canvas.
Referee Charlie Fitch began his count only to finish the fight within a couple of seconds. The 26-year-old Londoner's threat was extinguished by one of the best punches ever thrown on British soil. Froch held on to his prized IBF and WBA world super-middleweight belts and banished any lingering doubts after the pair's original match-up ended in controversial fashion in November of last year.
Many believed the first encounter between the two had exposed chinks in Froch's armour, Groves having floored the older man in the first round and out-boxed him for long periods. That bout ended in a ninth round stoppage that left fans booing at what they perceived to be an unnecessary and premature decision by the referee.
With no love lost between the fighters already, that controversy fed the animosity and proved vital in fuelling the hype around the rematch to ensure Wembley set a post-war record for boxing attendance. Simply put, this was the biggest fight Britain has ever seen, with two domestic favourites duking it out in the national stadium.
The opening exchanges were as cagey as one would expect from a rematch but from the fifth round the fight opened up. Groves' jab had born fruit, whereas Froch was more productive up close, but as the eighth approached 2 of the 3 judges had Froch ahead on points. That ultimately proved academic as the Nottingham man floored his challenger in emphatic style.
Nobody knows what is next for either man. Groves has time on his side but Froch, at 36, does not have that luxury. He looks to be eyeing a big career-closer in Las Vegas against Andre Ward, the man who beat him in 2011, but first he may opt for another all-British affair and face James DeGale, the 2008 Olympic middleweight champion.
Froch says of his future: "I could have three or four more fights, but if I decide after I've been on holiday I've had enough, don't be surprised. The one thing I haven't done is to fight in Las Vegas. That would get me up to remain in this sport. I wouldn't say it is Vegas or bust, but it is close to that."
To book boxing speakers and sports speakers for your corporate event contact Champions Speakers on 0207 1010 553 or fill out our online form.