Charlie Hebdo - one year on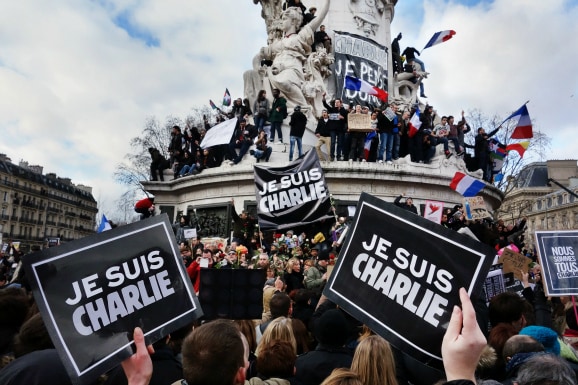 Today marks a year since the terrorist attacks on the Charlie Hebdo offices in Paris which shocked the world. On the morning of the 7 January 2015, two gunmen forced their way into the offices of the French satirical weekly newspapers and murdered 11 people. Several related attacks followed in the Ile-de-France region, where a further five people were killed.
The atrocities were not just an attack on life; they were an attack on freedom of speech and freedom of expression, values that are part and parcel of liberal Western society. Just a few days later, about two million people, including more than 40 world leaders, met in Paris for a rally of national unity, and 3.7 million people joined demonstrations across France.
The following week's edition of Charlie Hebdo saw around eight million copies in six languages sold around the world, in contrast to its typical print run of 60,000 in just the French language.
National security is one of the most pressing concerns of modern society; our secret intelligence services pull out all the stops to maintain the safety and wellbeing of British soil, infrastructure, citizens and interests. It is because of them that we can get on with our day-to-day lives in relative peace and comfort.
Dame Stella Rimington was responsible for British domestic security during a time when the IRA was still active and intent on terrorising the population of the country. The first female Director General of MI5, she joined the Service in 1969 and worked in a variety of roles, including counter-subversion and counter-terrorism, before taking the top role in 1992.
Under Stella's management as Director General, the Service took on the lead role in the fight against Irish republican terrorism. She also instituted a policy of greater public openness that included the beginning of an ongoing programme of releasing historical Service files to the National Archives.
Stella retired from the Service in 1996 and was appointed Dame Commander of the Order of the Bath in the same year. She then published her autobiography, Open Secret, in 2001, and since then she has published a number of novels set in the world of intelligence and counter-terrorism, as well as entering the after dinner industry, where she speaks of her time managing British domestic security.
To book Dame Stella Rimington as an after dinner speaker for your political or security event, call Champions Speakers on 0207 1010 553 today.