Champions (UK) plc Purchase Warner Music & Entertainments (UK)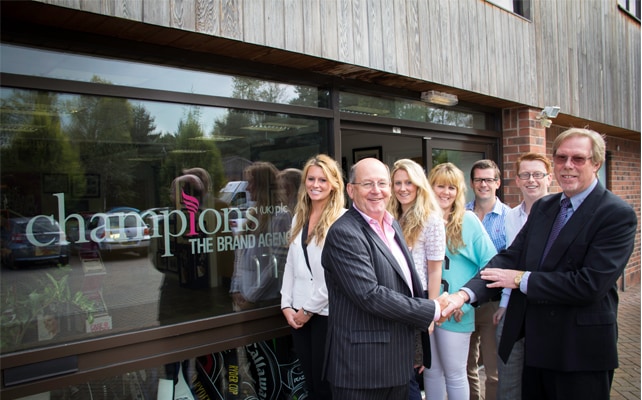 Midlands based brand agency, Champions (UK) plc recently purchased Warner Music & Entertainments (UK) for an undisclosed sum and former MD, Alan Warner, joined the experienced Champions Celebrity and Speaking team.
Champions (UK) plc offers brand development services across Celebrity Management, After Dinner Speaking, PR, Marketing and Creative to a variety of companies across the UK and was excited about the opportunity to work more closely with Alan. Warner Music & Entertainments (UK) was founded in 1989 and quickly became established as one of the leading entertainment agencies in the UK supplying 'Headline' entertainers and musicians to many of the world's leading cruise companies, theatres and venues throughout the world.
As well as booking many well-known personalities, Alan had a close working relationship with many famous entertainers over many years as an accomplished musical director and record producer, working with stars such as Norman Wisdom and 'The Supremes', to name but a few.
One celebrity client of Alan's was Renato Pagliari, who held the UK number One spot with his 1982 hit 'Save Your Love' by Renee and Renato. Alan played piano for as well as produced Renato's album, which gained considerable success worldwide.
Several years later, Renato introduced Alan to John Hayes, now CEO of Champions (UK) plc; the two men have been firm friends and business colleagues ever since.
Alan is also Executive Vice President of the Agents' Association (GB) the largest association of its kind in the world, with members who either manage or represent many of the UK's famous names in television, theatre and the music industry.
In June this year, a meeting between Alan and the Hayes family presented the opportunity for Champions to buy Warner Music and Entertainments (UK), a deal which was handled through Mazars, over the watchful eye of Chris Darlington. This meeting also opened discussions for Alan to join the rapidly expanding company in a three year contracted deal.
The introduction of Alan into the celebrity and speaking arm of the business is yet another great win for the company whose celebrity division continues to go from strength to strength. Champions Celebrity are proud to represent Kellie Maloney to the media through her transitional period between leaving behind her life as Frank Maloney, live as a woman. Since discussing her new life with the media Kellie went on to star in Celebrity Big Brother and has a number of exciting projects in the pipeline.
Kellie was recommended to Champions (UK) plc's Celebrity team by book publisher, Kevin Brennan, who has done many of Champions Celebrity's autobiographies over the years.  Kellie was impressed with the work she had seen Champions complete for Coronation Street star, Bill Roache, after the agency handled all media, looked after the legal team from their offices, and supported him, his career as well as helped his family whilst he was in court throughout 2013 and the early part of 2014.
Alan says of the new opportunity,
'Champions (UK) plc is one of the most progressive and successful branding and events companies in the UK. It also well known for representing and supplying many of the world's best s
porting and TV personalities for various functions and corporate events. Champions has also won numerous accolades from industry and business giants such as Sir Richard Branso.
I am absolutely delighted to be joining Champions at this exciting time of expansion and look forward to developing new business opportunities and working with a fabulous workforce.'
John Hayes, CEO of Champions (UK) plc, says,
"The acquisition of Warner Music & Entertainments (UK) into Champions was a fantastic opportunity for all involved. It's especially exciting to welcome on board my longstanding friend, Alan Warner into the company. He brings with him years of experience, excellent client management and gives us the ability to enhance our celebrity offering for those in the public eye looking for management, even further."
Champions Speakers made this arrangement in partnership with their client, Terrapinn, an organisation that specialises in training business leaders of the future, briefing companies on business-critical issues and encouraging thought leadership in changing times.