The British Are Still The Best At Putting On A Show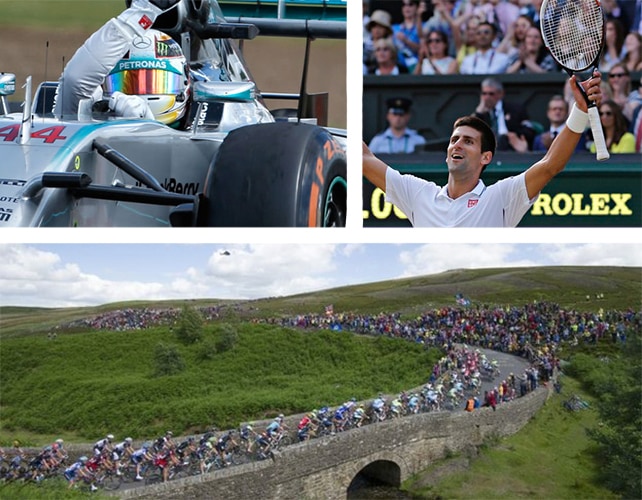 Great sporting events tends to coincide almost every summer here in Britain and we've seen in the recent past glorious days such as 'Super Saturday' at the 2012 London Olympics, when the planets seemed to align and success followed success. This past weekend has perhaps not stood out in terms of British success per se but we have once again shown the world that we can compete with the best when it comes to putting on a sporting show.
We did, let it be said, witness home-grown success at the British F1 Grand Prix on Sunday. Former World Champion, Lewis Hamilton, reeled in his Mercedes teammate, Nico Rosberg, before the German fell victim to a gearbox problem. This left the road clear for Hamilton to cruise to his second Silverstone victory, cheered on by 130,000 fans, and close the gap on his rival to 4 points in the race for the title.
Sunday also saw Wimbledon come to its annual conclusion at the All England Club in South West London. This time there was no British representation, the darling of British Tennis, Andy Murray, having fallen at the quarter-final stage in his attempts to recreate his heroics of 2013, but we witnessed one the best men's finals in recent years.
Roger Federer took Novak Djokovic to five energy-sapping sets having looked down and out at 5-2 in the fourth. The Swiss veteran rolled back the years, sending his opponent scampering desperately up and down the baseline with his trademark wit and élan, but ultimately he was denied his 8th Wimbledon title by Djokovic's strength and determination.
This was the Serb's 2nd victory at the All England Club and allowed him to retake the World Number One spot. Saturday also saw the Czech, Petra Kvitová, claim her second title as she over powered the French-Canadian, Eugenie Bouchard, easing to a 6-3, 6-0 win.
Perhaps the most remarkable event of an incredible sporting weekend was the Grand Départ of the Tour De France in Yorkshire. It has been estimated that over 2.5 million people lined the streets, roads and hill routes of God's Country over the course of Saturday and Sunday in unprecedented scenes.
The Tour's French organisers were amazed at the response of the British public, their interest stoked by the success of Sir Bradley Wiggins and Chris Froome over the last two years. The weather was superb throughout and Yorkshire was filled with colour. Bikes were painted yellow en masse, houses and pubs sported polka dot designs and hordes of flag-waving Brits turned out to cheer on all of the nearly 200 riders.
Hopes remain high that Team Sky can deliver Chris Froome to victory on the Champs-Élysées once more on July 27th but, as Le Tour leaves these shores, we can be proud of our enthusiasm for all things sportif and be reassured that there are few better than us British at staging first class, global sporting events.
To book Sir Chris Hoy, Johnny Herbert, Andrew Castle or indeed any one of our top class sports speakers, fill out our online form or call Champions Speakers on 0207 1010 553.