Barclays Premier League Preview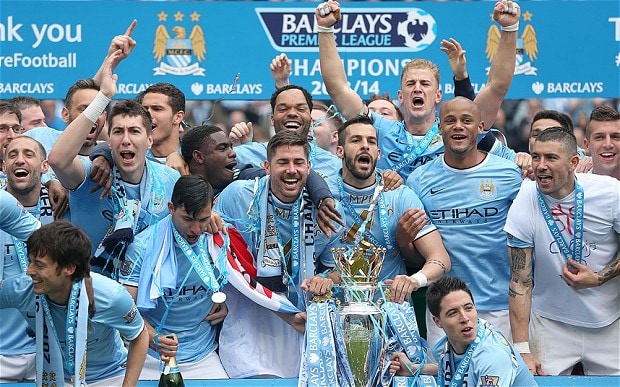 Fans of the beautiful game may have been spoiled by the FIFA World Cup this summer but they have not had long to wait for football's return. This weekend saw the season's traditional curtain-raiser at Wembley with Arsenal laying down an early marker in the form of a 3-0 win over the champions, Manchester City, to claim the Community Shield. Anticipation will reach fever pitch when the first Barclays Premier League balls are kicked in anger this coming weekend.
Champions Speakers have a vast and unique stable of football speakers to lend insight to your corporate event so, with appetites now whetted, we thought it the ideal time to preview a title race that looks more open than in many recent years. Here is a look at how the five clubs in with a genuine shout are shaping up.
After the debacle that was Manchester United's 2013/14 season all eyes will be on Louis van Gaal as he takes up the Old Trafford reins after a successful World Cup with The Netherlands. The departures of Nemanja Vidic, Patrice Evra and Rio Ferdinand have left the United back line looking slightly bereft of quality and experience, a problem exacerbated by van Gaal's likely use of 3 centre backs. The pressure is on for the likes of Phil Jones and Chris Smalling to establish themselves as truly worthy of the United shirt.
The United midfield also looks short with just the acquisition of Ander Herrera from Athletic Bilbao adding to the numbers. With Michael Carrick out for a couple more months with an ankle injury, van Gaal will be looking for Darren Fletcher to provide the platform upon which Mata, van Persie and Rooney can show their class.
Across Manchester, City are less concerned about midfield personnel. Manuel Pellegrini is flush with talent in that department and has enviable attacking options in the shape of Aguero, Edin Dzecko, David Silva and Samir Nasri, to name but a few. His problem this season will be maintaining the balance of his side and keeping everyone happy. Yaya Toure has shown signs of discontent over the summer, a theme that could flare up again at any time.
Martin Demichelis was a real weakness at the back for large parts of the last campaign and at 33, with a gruelling World Cup behind him, could again become something of a liability. While Bacary Sagna appears to be a flexible defensive addition this summer, Pellegrini will hope the signing of Frenchman, Eliaquim Mangala, from Porto today shores up the heart of his defence.
After a blistering season that ultimately fell short in the final furlong in May, Liverpool will look to push on. Having cashed in on Luis Suarez, however, there are still questions over how the dynamic of Brendan Rodgers' side will be affected. Raheem Sterling should make further progress, as should Daniel Sturridge, but Liverpool may struggle for the goals that took them so close last term.
That said, Rodgers has been busy in the market, raiding Southampton for Adam Lallana, Rickie Lambert and defender, Dejan Lovren, but, with the prospect of Champions League football, his squad needed fleshing out to cope with the demands. Europe was not a problem for Liverpool last season but with the extra games it remains to be seen how well Rodgers' system and philosophy adapt to the rigours of squad rotation.
After nine barren years, Arsene Wenger's men have been buoyed by two trophies in two consecutive games. The new marquee signing from Barcelona, Alexis Sanchez, showed he is genuinely world class in Brazil and his pace, allied with that of Theo Walcott, should help Arsenal develop counter-attacking alternatives to their possession based game of short, incisive passing. Many expect Mesut Ozil to continue his transition into English football and the Gunners will hope for further improvement from Aaron Ramsey after last season's fireworks but Jack Wilshere now owes it to his boss to stay fit and to finally live up to the hype.
Fitness was a problem for the whole squad last term as Arsenal's early season promise fell away in the spring but the playing staff has been strengthened by the additions of Mathieu Debuchy at full-back, the £16.8m arrival of teenager Calum Chambers at centre-back and the return of the Costa Rican striker, Joel Campbell, from his loan spell at Olympiacos. With positive transfer activity and a new found confidence, the Gunners will be looking to mount a lasting title charge.
Jose Mourinho is perhaps under the greatest pressure of all the coaches vying for the title. He can no longer claim Chelsea are in transition with the additions of Cesc Fabregas and Diego Costa from La Liga and, with the return of talisman Didier Drogba, the 'Special One' looks to have the firepower he lacked last year. From January Nemanja Matic filled a void that had denied the Portuguese the strong spine his teams have traditionally been built around so there looks to be an improved balance and steel to this latest Chelsea side.
They look exceedingly strong at the back too. Should the years finally catch up with John Terry there are plenty of other options, both in the shape of Tim Cahill and the flexible full-back, Ivanovic, and with some promising youngsters, like Tomas Kalas, Kurt Zouma and Kenneth Ormeru, waiting in the wings. Felipe Luis has been brought in at left back, a move that could see Azpilicueta move into the centre. Nonetheless, Mourinho must deliver this year lest he wants to fall victim once again to the unforgiving Roman Abramovich.
We are all set for the new season to kick off. The contenders have improved their squads but there are identifiable weaknesses in every case and, with a lot of water to pass under the bridge between now and next May, there is no telling who will end up top of the pile. It is, however, sure to be a wonderful ride.
To book Peter Shilton OBE, Peter Schmeichel MBE, Gary Neville or another of our talented football speakers, fill out our online form or call Champions Speakers on 0207 1010 553.