2014 Nobel Prizes Announced In Norway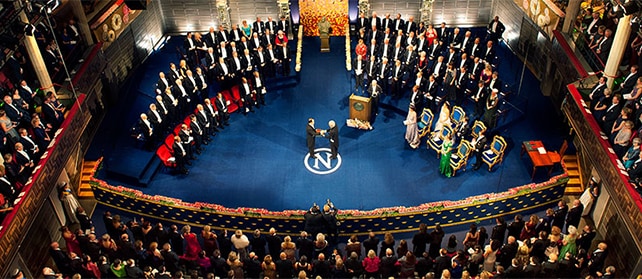 At a series of press conferences in the Norwegian capital, Oslo, this week we are witnessing the announcements of the 2014 Nobel Laureates. The annual awards were first presented in 1901 after a provision made in the will of Alfred Nobel, a Swedish chemist and engineer most noted for the invention of dynamite, sought to establish prizes in five fields for inventions and discoveries that are judged to be most beneficial to mankind. Since then prizes have been given out yearly for contributions to literature, medicine, chemistry, physics, and peace and in 1958 a further prize in economic sciences was instituted.
The list of Nobel Laureates now runs to some 791 men and 44 women, with 555 prizes having been awarded in total. Reading through that list, it is a veritable 'who's who' of so many of the great and the good and of some of the most influential people of the past century and more. In an age when innovation increasingly shapes our lives, Champions Speakers has a broad range of technology speakers ready to share their insight and expertise at your company's next event.
At the time of writing, three of this year's prize winners have been confirmed, with the remainder due to be unveiled in further press conferences scheduled for Thursday 9th, Friday 10th and Monday 13th October. On 10th December at a high profile ceremony in Stockholm, the recipients will each be presented with a gold medal, a diploma and a sum of money, this year reportedly 8 million Swedish kronor or £690,000. Often the prize is shared between laureates who have collaborated on a ground-breaking project but there can be no more than three winners per category.
This year's Nobel prize for medicine is to be shared between UK-based John O'Keefe and Norwegian husband and wife team, Edvard and May-Britt Moser, for their work in discovering the cells our brains use to navigate the world. Their work has been described as a 'cognitive revolution' and looks set to benefit Alzheimer's patients among many others.
On Tuesday 7th October, it was confirmed that a trio of Japanese and US scientists are to be honoured with the prize for physics after their invention of blue light-emitting diodes (LEDs) in the 1990s. The academics succeeded where a number of large corporations failed and have enabled the development of a new generation of bright, energy-efficient white lamps and the colour LED screens now so common.
This morning the Nobel Committee confirmed they were awarding the chemistry prize to another trio. Americans, Prof. Eric Betzig and Prof. William Moerner, will share the award with the German colleague, Prof. Stefan Hell, after working towards improved microscope resolutions that allows scientists to observe molecular processes as they happen in real time. It is thought that these improvements will help bring about a number of related discoveries set to benefit several fields of science.
Technology is really on the march in the early 21st century, so to enlighten your organisation's event book one of Champions Speakers' vast array of technology and innovation speakers by filling out our online form or calling 0207 1010 553.